Claims handlers spend upwards of ⅓ of their time reviewing documents. Shift's AI-based approach can help minimise this low value work.

Shift Claims Document Decisions is an AI-powered solution that analyses documents for relevant details and creates a contextual view of action items required to move the claim forward. Our models are specifically trained with insurance documents in mind, allowing it to process forms with accuracy matching or surpassing that of an experienced human claims adjuster.
Automatically evaluate documents against available data to create a complete picture of each claim and accelerate processing.
Streamline document analysis
Go beyond OCR using AI models trained to deliver contextual decisions at scale. Specialised artificial intelligence automatically ingests and interprets all claims documents, even handwritten notes or typewritten forms.
Timely and comprehensive alerts
Seamless integration
INFOGRAPHIC: THE INSURANCE LIFECYCLE AND WHERE AI CAN HELP
A visual representation of how AI helps the detection of bad actors and accelerates customer journeys.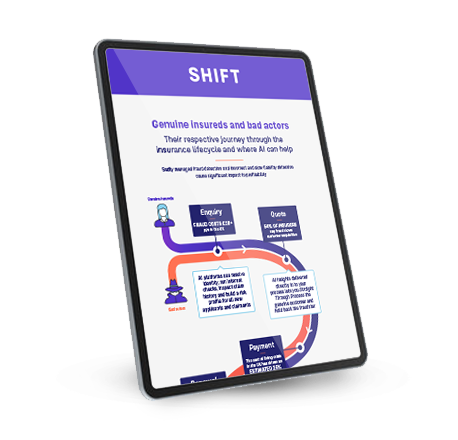 Increased Claims Straight Through Processing
"We believe that our work with Shift will help us create an automated claims process that is fast and efficient, while at the same time making it easier for claims professionals to spend time with those clients who may need a little more attention."
Operations Vice President
Spanish P&C Insurer
84% of Claims Handled via Digital Channels
"We partnered with Shift Technology because we want to maximise our customers' satisfaction, by offering them an alternative pathway that is fast, smooth, straightforward and suits the new digital habits of consumers."
Head of Non-Life and Managing Director
Leading French P&C Insurer