Customers expect a fast and easy insurance experience. Don't let fraud and risk slow you down.
Our powerful and continually learning AI provides impact across the policy lifecycle. Whether premium leakage or policy hijacking, ghost broking or fraud networks, Shift enables insurers to find more risk and fraud.
Entity resolution
Uncover hidden history and connections between policyholders, both past and present, to reveal prior claims and fraud.
Network detection
Agent gaming
Helping Insurers Grow with Confidence
"Our ability to better spot suspicious policy activity, to better understand who is seeking a policy and why, and do so quickly and efficiently, ensures that our genuine customers are not inconvenienced by the activities of a few bad actors."
Gary Hueting, Chief Operating Officer, Markerstudy Insurance Services ltd.
Shift is trusted by leaders of the world's leading insurers to effectively identify risk and fraud.
Ghost Broking: Using AI to Stop the Growing Risk for Underwriters
Underwriters across the world have been stepping up to the challenges of digital policy fraud by deploying advanced AI, and the result is more than just fraud stopped. Underwriting and Policy Fraud experts James Tesdall and Gareth Evans discuss how Shift's AI-powered Underwriting Risk Detection is helping insurers bust ghost broking networks across the world, and why AI is uniquely positioned as the tool Underwriters can use to stop this form of policy fraud.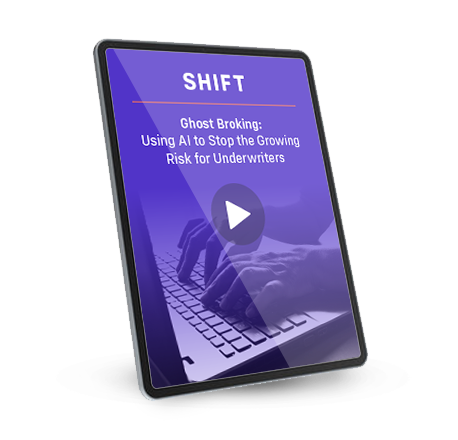 Learn how Shift can help you successfully identify, investigate and prevent more fraud