£4.5B+
Claims Fraud Identified in 2021 Alone
4/10
Top Global P&C Insurers
£550M
In UK AML Non-Compliance Fines
10K+
Fraud Networks Identified
200+
Insurance Focused Data Scientists
In the UK alone, £37B is laundered annually. Shift's Financial Crime Detection can help.
We help insurers accelerate entity identification with checks against sanctions, watchlists, adverse media, and suspicious transactions, thereby defeating bad actors and ensuring regulatory compliance in real time.
Necessary checks and regulatory reporting can delay the buying process. Shift enables insurers to automate time-intensive tasks to get more customers on board quicker.
Reduce false positives and save wasted time
Shift's best-in-class entity resolution minimises false positives through deduplication and data cleansing.
Configurable sanctions and WLM to focus checks
Automated adverse media search to save hours
Helping Insurers comply effortlessly
"In CCI's survey, 59% of compliance officers (COs) revealed that they felt 'burnt out', with 69% admitting that they were stressed about the pace of changing regulations"
Increase coverage and peace of mind
Shift's Financial Crime Detection automates checks and screening processing in seconds that used to take a team days, allowing you to significantly increase your coverage and confidence
Infographic: Financial Crime Real World Scenarios
Find out more about the real world scenarios Shift customers have uncovered using Shift Financial Crime Detection.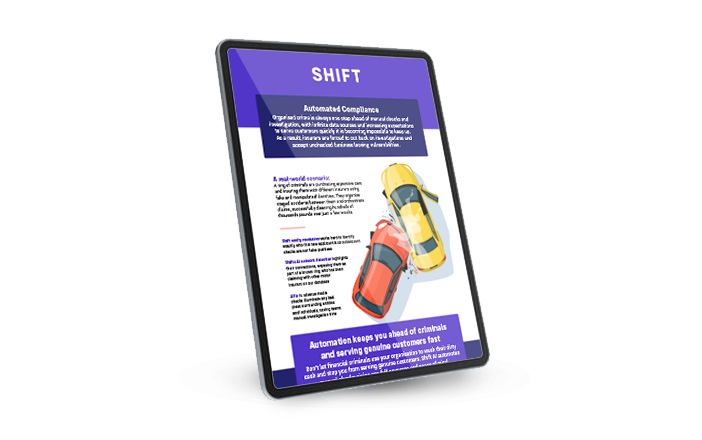 Seamless Sanctions Checking
"This global health insurer has deployed sanctions and PEP checks, AI risk scoring and unusual scenario detection successfully replacing legacy approaches and increasing efficiency."
Tier 1 Health Insurer
Hundreds of Suspicious Scenarios Detected
"In just 5 months, 150+ suspicious scenarios, with likelihood of money laundering activity were detected across 14M claims, resulting in significant risk mitigation."
Tier 1 Life Insurer
Learn how Shift can help you effortlessly comply whilst delivering a best in class customer journey